Coaches at all levels of competition rely on Hudl to develop their athletes, grow their team and promote their program. Here are ways you can use Hudl to share your team's best moments and rally the community.
Show off with a team profile.
Every team gets a public profile page when they join Hudl that includes your team's high­lights, the sea­son sched­ule and your ros­ter of ath­letes, with links to their indi­vid­ual pro­file and high­lights. Now all you need to do is customize your team profiles. Start by adding your school logo as the team profile picture. Once that's saved, include a tagline to share the team's philosophy with fans. We've seen quotes, hashtags, links to Twitter accounts, you name it.
Get your teams and fans hyped.
Highlight videos are a great way to pump up athletes and fans. Encourage your coaches to create a highlight from their last game to watch as a team. And if they have Hudl Assist, it's easy to use the stats and reports they get back from our analysts to find highlight-wort
hy moments. With spot shadows, photos and the right kind of music, they'll have no trouble rallying everyone together for a win.
Leave the game highlights to us.
Teams with Hudl Assist get access to detailed stats and reports, saving their coaches time to focus on developing their athletes and promoting their team. Hudl Assist teams also get auto-generated highlight reels of their team's best plays based on their Assist stats.
Note: Available for football, basketball, volleyball, soccer, lacrosse and ice hockey teams.
Celebrate the season.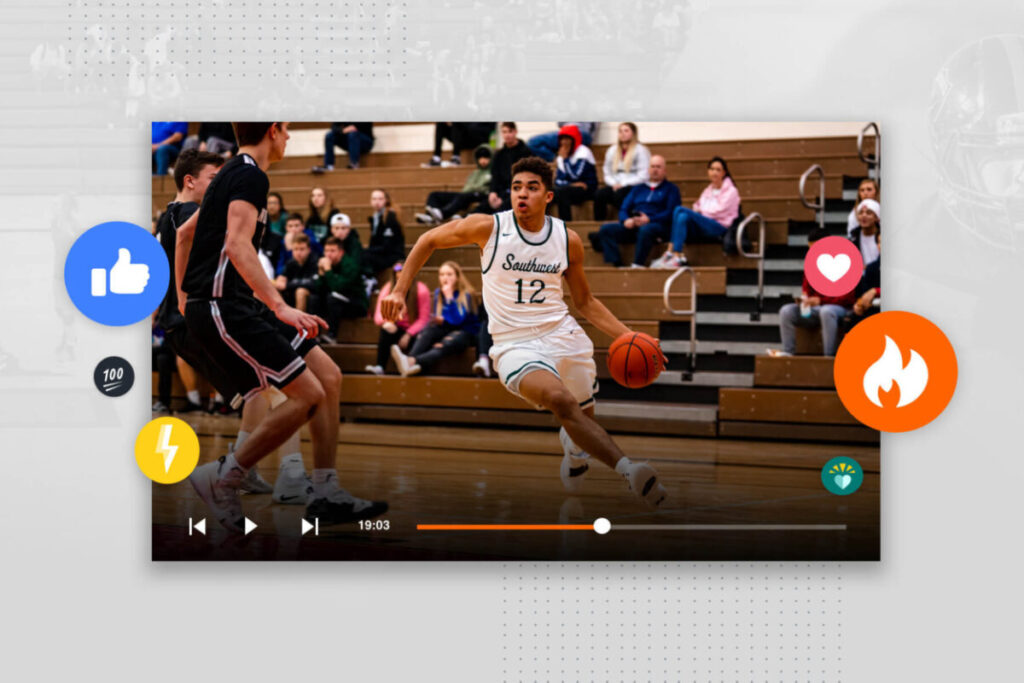 Take time to remember each game's best moments by creating season highlights. You (or your coaches) can add team photos or slides with season stats and athlete awards—whatever information is most important to your teams and fans.
Embed a highlight reel.
When you embed a highlight reel, all your fans have to do is click play. Create an athlete of the week series and
embed their most recent highlight on your school's website. Make your own version of SportsCenter Top 5 each week with team or athlete highlight reels. Or tweet the auto-generated highlight from your most recent win with #WinOfTheWeek. The possibilities are endless.
Share it out on social.
With the click of a button, you can share a highlight reel or the link to a team's profile to Facebook or Twitter. Want to push it somewhere else? Copy the URL and paste it wherever you please—in an email, a text message, Instagram or your school's athletic website.
Livestream your next game.
Don't let bad weather, bumper-to-bumper traffic and late nights at the office stand in the way of your players' biggest fans missing their games. Hudl Focus not only automatically records and uploads your film, but it also streams it so fans, family and friends never miss a home game. You can embed a stream directly on your school's website or stream them to YouTube. And use Twitter to get your fans watching the livestream like this team did.