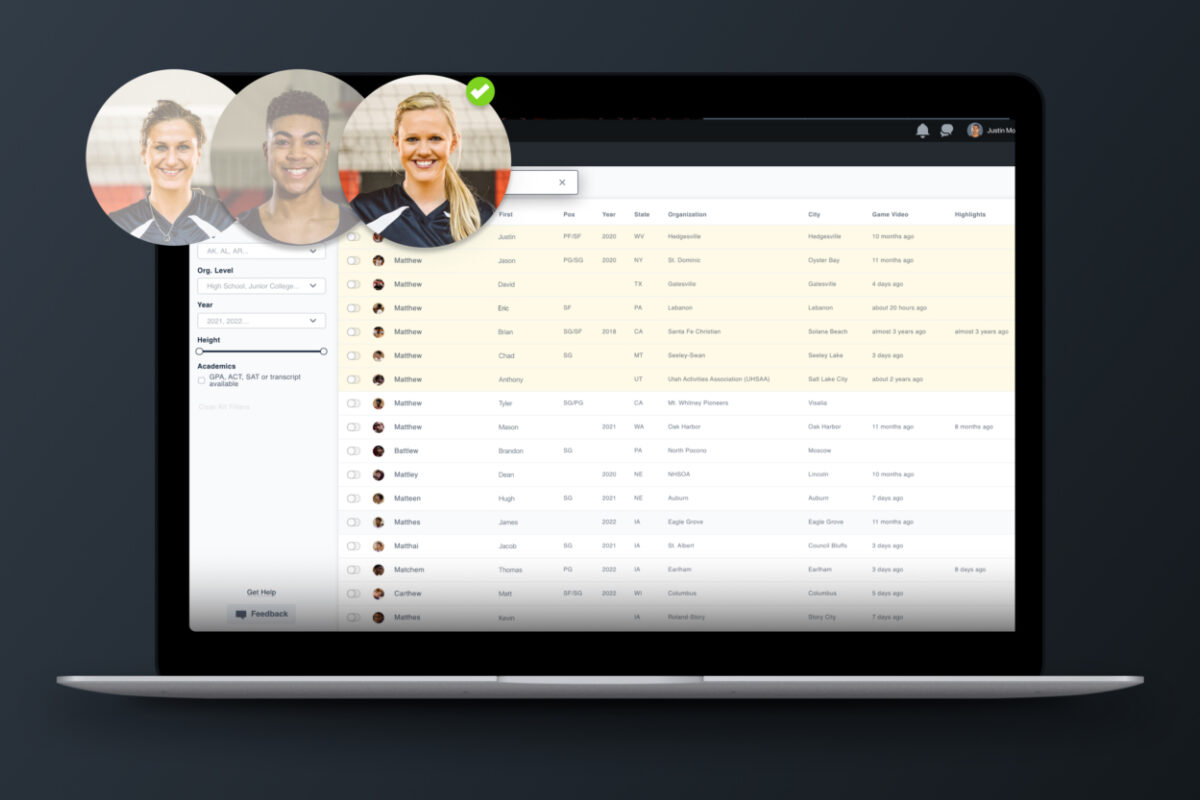 The recruiting landscape has changed — learn how Hudl has made it easier to search, evaluate and save prospects.
COVID-19 brought a lot of change. Athletes have never needed online visibility more. Recruiters now need a safe way to find the best athletes for their program. But at least one good thing came out of 2020—we've improved our core recruiting workflows, including feature updates to Hudl Recruit and athlete profiles within Hudl.
After years of our core recruiting offering being centered around American football via Recruit.co, we've now built similar tools for both the volleyball and basketball markets. And we're making a commitment to continuous innovation for our customers.
Better visibility for athletes 
We know athletes dream of playing at the next level. But recruiting is a complex and confusing process. Our goal is to help athletes like you promote your talent and help you find a program that's the right fit.
You're already using Hudl to create highlights to capture the attention of recruiters. Now, you can easily take it a step further. As a student athlete, you are more than what you showcase on the court, our updated profiles help you showcase this.
Want to get started? Log in to Hudl.com and update your athlete profile. This is a recruiter's hub for information on you, so make sure it's a good representation of who you are, as both a student and an athlete.
Recruiters can always find your public profile, but when you've opted in to recruiting, they'll have access to more of the content that helps them evaluate you as a recruitable athlete. This includes contact information, your academic and athletic stats, and full videos of your games. Remember to update your profile after each season to ensure the most updated information is available.
Check out these resources to learn more about the recruiting process:
More access for recruiters
As a recruiter, you're constantly trying to juggle your responsibilities: managing your practice prep, scouting opponents, getting through your flooded inbox and nailing down the next best recruits for your team.
Our goal at Hudl is to help make the evaluation process seamless while giving you custom options to fit your program's workflow and philosophy. And over the past year we've done just that. You can discover athletes through a transformed and innovative recruiting platform.
These new product improvements not only allow you to discover athletes quickly with improved filtering and search, but you'll also have access to more of the content that helps evaluate recruitable athletes. This includes contact information, academic and athletic stats, and full game videos with filtering. And if you're a recruiter at a college basketball program, you can import the data into Hudl Sportscode to watch video offline, create edits and make player comparisons.
What's all this mean? You'll now get much more than a highlight to make the right decisions for the future of your program.