This article was provided by Bjorn Galjaardt
Okay, a catchy phrase for something that might actually be a double pyramid model. However, time is of the essence and clubs, coaches, athletes, parents or caretakers and stakeholders can act now. The Sandglass Sport Success model is a blueprint that poses challenges of 'participation', 'early specialisation' and 'high-performance'. In fact, in various sports, people find the same challenges and opportunities but may find friction in or from certain levels of the 'sandglass'. The sandglass works from a broad FUNdamental base to a narrow high-performance climax, that eventually will mirror success. Interested? Let me take you through a journey of a blueprint in sport success.
First pyramid:
The first pyramid is based on the basics and needs of the participants. It is like a combination of Maslow's hierarchy of needs and Balyi Long-Term-Development-Model, but then for all sport needs involved! From associations to clubs and from grassroots to high-performance interests. Active Start.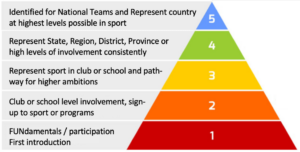 1. Statistics shown that most participants join an introduction program, whether it is through the school, club, association or similar. On average, globally, around the age of 8 years old. Some have gone through 'mandatory' programs (e.g. learn-to-swim), while others try sport based activities for the first time. Some will join at a later age as they may transition from other sports (e.g. swimming to water polo), like to try something new or it is part of a (curriculum) activity. Fun is the main driver: FUNdamentals
2. Other or the same participants either transition to the next phase or begin here. The second most important layer. In both layers, there could be some sort of competitive component involved, but the majority want to play the sport with friends, try something new or really want to learn more about the sport. Learn to train.
3. Phase 3 is where the 'fun' starts to form a different dimension. Training starts to get serious for some. Perhaps there is an appetite for more, perhaps the club has a history of being a more performance driven club, perhaps there are other reasons. The main idea is to offer multiple levels for multiple participants, which shall now be called players. This base layer of phase, or stage, 1, 2 a 3 is needed to provide adequate opportunities for all players involved. Whether it is a once in a week game with a BBQ after or 5 times a week training with an A division team. If we lose those crucial 'hot' levels (hence the colours red, orange and yellow), there will be no phases or stages after this. High-Performance is bound to those first 3 crucial levels. Train to Train.
4. As the pyramid layer shrinks, the level of players become thinner. Players shall now be called athletes, whether they are emerging or close to elite. They play representative and they want to continue to do well. Some are happy to already perform on this level, others want more. Most of them specialise into this sport alone, others may drop out and it is crucial to capture them and nurture them on the level that they feel valued and welcome. Some may have educational sponsorships or still depend on parents or stakeholders. Train to compete.
5. This is the level with the least athletes. The financial structure depends on professional sponsors or government support. The quality is assumed to be higher and for that matter, perhaps high key performance indicators are on stake. Train to win.
Second pyramid.
The reflection of the first pyramid, or better the expansion.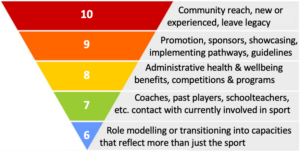 6. Coaches, athletes or coordinators and managers who have gone through phases or stages 3, 4 or 5 and are a current or past identified role models, could be utilised for those levels to inspire those that are close to that same level. Learn from their experiences and share their stories. Sure, when high stake medals were won this would leverage the strength of this phase. However, there are many examples of successful club programs and sponsor packages that others have never seen, just because it was not shared with the right people. Who in your club has a success story that people could learn from? Perhaps a community members' father, who won the Football Premiers… Share to perform.
7. All members from all levels can inspire, not just your top performers. There are great coaches out there who never represented any country but touched many lives and build a club. Past players who actually never thought of doing something for the club or program, because they perhaps never been asked, therefore never had considered it. Who in your club or program knows a person that perhaps has an interest to inspire a current or next generation? Teachers can introduce water polo into schools or schools into your water polo program. Share to inspire.
8. People who currently play or have transitioned from playing and are in roles that could have a positive influence on your sport. Health and wellbeing is a hot item currently with more attention to it than a few decades ago. Develop a think tank with administrators in the sport area to evaluate competition, programs for clubs and schools and see what you can offer them. This may as well open connections and create transparency, perhaps there is even a need that was not identified before. Now maybe financial benefits are mutual! Inspire to develop.
9. By showcasing the sport there needs to be mutual benefits as mentioned in phase 8. This can be done by a combination of previous phases. Some benefits may run short term, other long term. To establish improvement a holistic approach needs to be considered. Created to be improve for the next few years if not for the next generations. Inspire to improve.
10. Once all stages or phases have been experienced, the reach to the community will be the foundation stage for the outreach of the sport. The sandglass can be built on again with stage or phase 1. New or current participants will become players, athletes and hopefully stay involved for life. Becoming new administrators, coaches, referees, sponsors and passionate supporters. Leaving a legacy. Active for Life.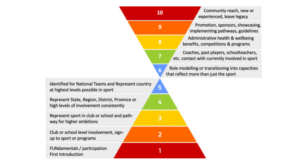 SUMMARY: THE SUNGLASS SPORT SUCCESS MODEL
As time slips by, we would hope that the levels of support and interest in your sport will always continue. The reality is that time seems to runs out. New rules, organisational structures, players moving clubs, athletes dropping out and participants choosing different sports. What if we could improve the current structure and leverage of what we are doing now? Often the perception is that this comes at a price, e.g. winning medals, attracting good players, etc. This is not necessary the truth. What we need to do is stop early specialisation, keep pushing youngsters to limits that only others would like to see of them, and stop pointing fingers to above and below. Use what we have to keep a sport we all love. That does not mean that we cannot be competitive; we just do not need (the same level of) competition for everyone. We do not need to specialise and train 20 plus hours a week in an early stage of life. We only need to provide the right opportunity. There are many factors like different maturity ages, social-economic impact, etc. and some of these factors can be used to benefit and support the first pyramid effects.
What we need to do is leverage what we have done; evaluate, anticipate and generate in order to execute. This means a shared responsibility, ownership of tasks and goals as well as transparency and working together. This starts within the capacity and placing of your phase or stage in the pyramid. High-performance cannot be sustainable on it is own, but without high-performance we also miss the pathways and need for the few who can be role models and use our sport as a promotion. Adapt to trends in sport, but with a feel what the community wants and what the sport needs. Let us use the Sandglass Sport Success model in order to keep building and improve our sport. Leave a legacy and turn the sandglass with the ease.
AUTHOR
Bjorn Galjaardt (B.ed) studying Master of Sports Coaching with 12+ years coaching and managing experience from grassroots to elite level. Held roles in program management and currently delivering online and in person performance services at Blended Performances.