Does talent outweigh a negative attitude? Can you justify keeping a talented player that causes trouble and brings the team down?
This post is from Coach Dawn Writes
By Dawn Redd-Kelley, head volleyball coach at Beloit College
Ideally, our best players are our best leaders.  They work hard, they motivate their teammates, and they communicate well with the coaches.  But what happens when a strong talent is an energy suck?  What if they only bring negative energy?  Does the good (their talent) outweigh the bad (their attitude)?
Not according to experts.
Will Felps is an Australian collegiate professor who focuses on the negative effects of bad apple teammates among other things. Felps "estimates that teams with just one deadbeat or downer suffer a performance disadvantage of 30 to 40 percent compared to teams that have no bad apples."
30-40%????!!  How many close games or races did your team lose this year?  Could it be because of your bad apple?
I'd say this is a pretty solid argument for being aware of, trying to manage, or ultimately getting rid of the bad apples on your team.
I tweaked this list from a post over at Leadership Freak's blog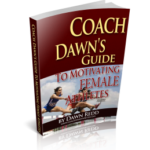 Are you tired of walking into practice and seeing lackluster effort from your players?  Have you had it with trying to get your female athletes to care about the team as much as you do??
Click here to find out more about Coach Dawn's eBook: Motivating Female Athletes
Comes with a FREE PowerPoint presentation called Guarantee Your Success: Using John Wooden's Pyramid of Success To Increase Your Team's Cohesion.
About the Author of this Post
Dawn Redd-Kelly is the head volleyball coach at Beloit College.  Her volleyball teams have earned the best winning percentage in school history.  She has coached at the high school, club, Division I and III levels…taking her first collegiate head coaching job at age 24 with the University of Rochester.  She played volleyball at the University of Wisconsin-Madison. Coach Dawn Says: "I believe in the power of sport to teach winning and losing with grace, to inspire its participants to excel, and to create a common goal for the greater good."